Big Red Cats HQ is located at 4430 Red Mountain Road, Rossland, BC (RED Mountain Resort base area). 
The Staging Area is located about 25 minutes north on Claim Pit Road. Guests are expected to self-drive unless the shuttle was pre-booked (departing from HQ at 8 am).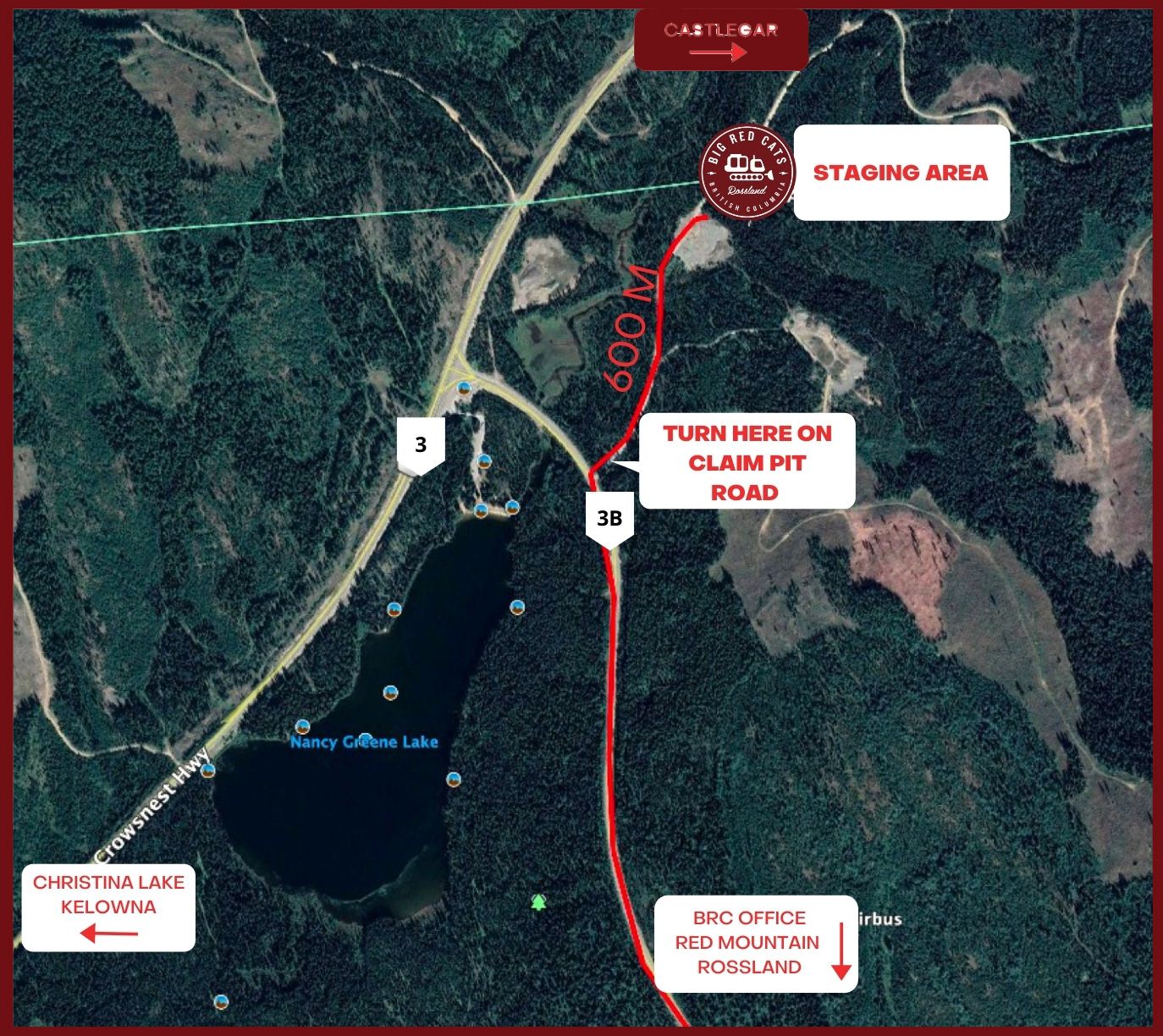 Directions to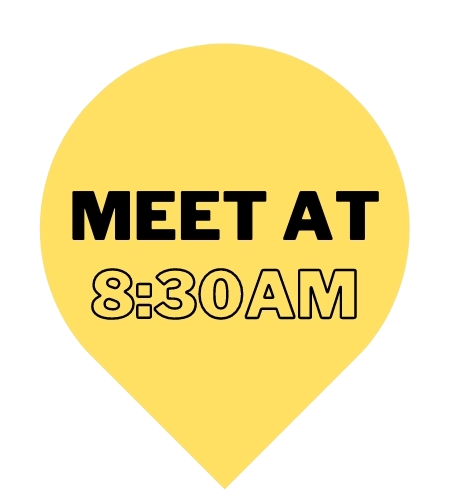 15.4 Miles (24.8km) North of RED Mountain Resort along Highway 3B - 600M UP CLAIM PIT ROAD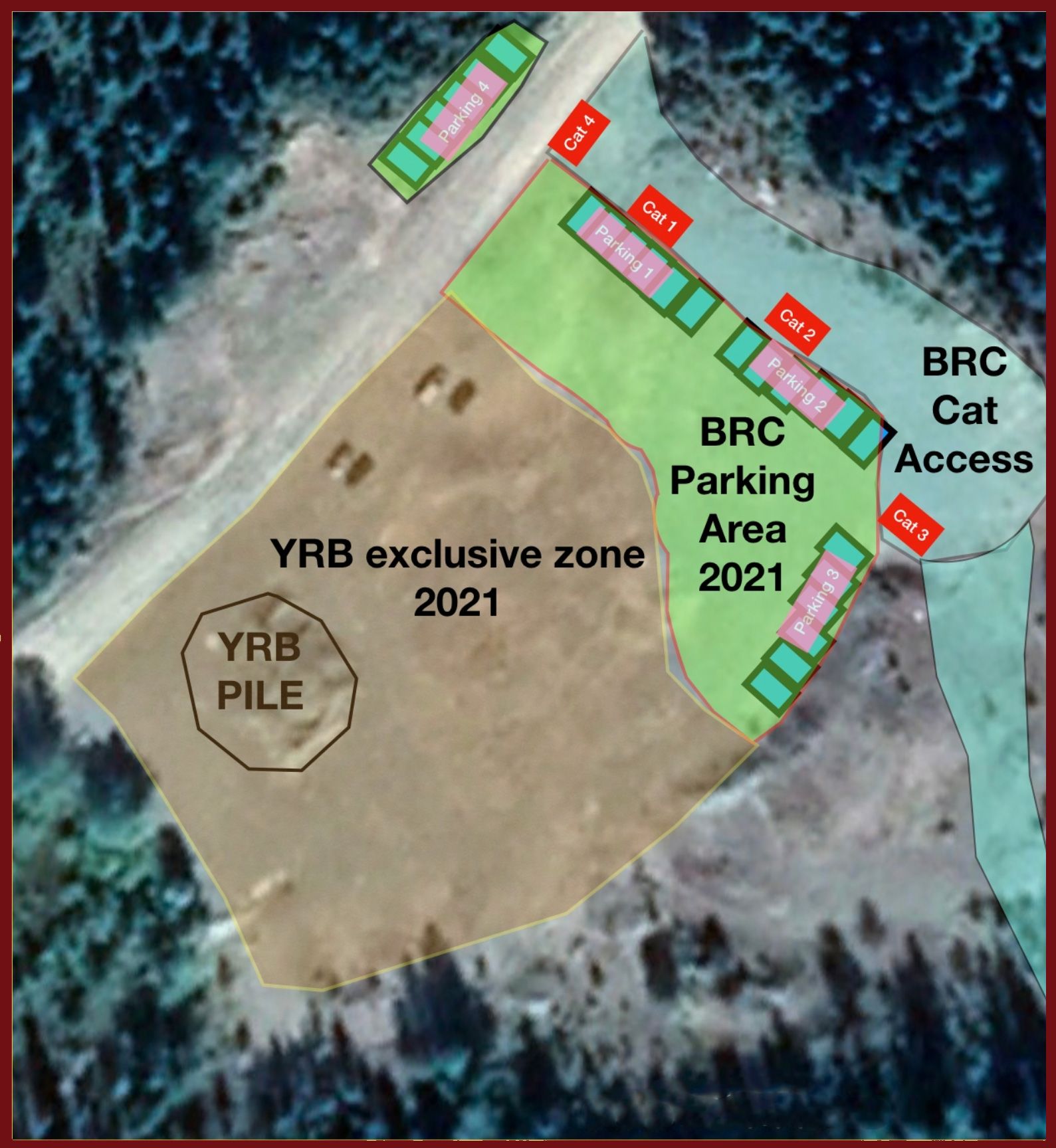 Guest Parking at
KNOW BEFORE YOU GO:
No cell service on route - be sure you know where to go!
Not sure where to go? Call us at 1-250-362-2271
Please follow signs
Do not park in the YRB Area
Group 1 = Parking 1 Area
From Spokane
Rossland and Big Red Cats are a 2.5 hour drive directly north of Spokane, Washington. 
A rental car is the best way to get from Spokane, especially if there is more than one of you. It is ready when you land and you can drop it off right before your return flight.  There are lots of direct flights to Spokane on Southwest, Alaska, and United.

Kootenay Gateway offers local and regional shuttle transfers to meet your travel needs throughout the season. Daily airport shuttles get you to and from the mountain, with services to Kelowna and Spokane. Regional resort transfers and private custom shuttles run on your schedule to get you door to door safely, in comfort, and hassle-free. Visit www.kootenaygateway.com/transportation for all of the details. 
Trail, BC-based Lasting Impressions Limousine may also be an option for you, or Spokane-based Bill's Friendly Rides, at 509-951-5445.
In your vehicle, drive north on Division St./Hwy 395  to Colville, then turn right on Williams Lake Rd. about a mile or so past the big roundabout on the west end of Colville, then turn right at the end onto Hwy 25 and head for Northport and the Frontier border crossing (open 24 hours).  
Here is a link to some info on the border crossing, which operates 24 hours.  Note: If you have ever had a DUI in the States, the Canadian government considers that a felony and will probably not let you into the country.   The guards do have some latitude if the charge is over 10 years old, but it is not guaranteed, so we strongly recommend talking to them in advance.

From the border crossing, drive north to Rossland. At the Esso/Seven Summits Service station, stay on the main road (you will pass the Esso station and town of Rossland on your right). Drive about another 3 minutes up the highway, pass the Rock Cut Pub, and then turn left at the overhead flashing yellow light into RED. RED Mountain Road snakes around the Ram's Head Inn property for about a block, and our HQ is on the right in the Red Rob's condo building just before the Red Shutter Inn and the main roundabout. If you're checking into a Red condo, central reservations are ON the main roundabout.
Flights
Fly to Trail, BC (YZZ) on Pacific Coastal from Vancouver and call Champion Taxi or rent a car from RentAWreck.  Note that a taxi from the Trail airport may cost $75, so try to split it with your travel buddies or meet people in the departure lounge and carpool with someone.  The Trail airport does have a better landing record than Castlegar, although the odd flight does get canceled due to visibility issues.
Fly to Castlegar, BC (YCG) on Air Canada and call Castlegar taxi or rent a car.  Castlegar is about ½ an hour to Rossland/RED Mountain.  Note that a taxi from Castlegar can be $100, so try to split it with someone.  Also be aware that it is nicknamed "Cancelgar," due to an abundance of valley fog making a large number of flights unable to land or take off - you could be turned back to Vancouver or Calgary, or grounded here.
Fly to Spokane, WA

 

(GEG) and rent a car or take a shuttle or limo (must be pre-arranged). It is a 2.5-hour drive - 225km from Spokane International Airport, or 140 Miles.  Their landing record is one of the best in North America.  
Fly into Kelowna Airport (YLW)

 and rent a car for the 3.5-hour drive

.  It's a bit further, but your flight may be cheaper than to Castlegar with shorter connection times.  They rarely cancel due to weather/visibility.  It is the best way to travel from overseas if you don't want to go through the US.
Private Plane: Private planes can be flown into Castlegar or Trail.  If the weather is poor, Grand Forks, BC may be a good alternative. If you are a full cat and require airport pickup from a BC airport, let us know and we may be able to arrange something for you.  If you are flying from the US, ensure that you pre-clear all of your passengers through Canadian Customs before your trip.  If the weather is good, it is possible to fly a group into Castlegar, and we can transport you to and from the snowcats for a day of skiing and return flight all in the same day.
Drive

 

from

 

Seattle: Take I90 to Spokane (6 -7 hours).
Drive

 

from Calgary: Crows Nest Pass is usually faster unless you live in the northwest, in which case go via Radium (7 hours).
Drive

 

from Vancouver: Take Hwy 3 (8 hours).  
Border Crossings
Non-Canadian residents will require a passport to enter Canada. Travel Visas (for travelers coming from countries other than the United States) should be arranged prior to travel.
The closest border crossing to RED Resort is at Paterson, British Columbia / Northport, Washington. This border crossing is open 24 hours per day, 7 days per week, to traffic entering Canada or the United States.  If you have a previous DUI or other felony charges, make sure to check in advance before booking your trip, as Canada probably won't let you in.  If the DUI is more than 10 years old, the border guard may be able to let you in if you ask first or arrange for a TRP or rehabilitation document.
Rentals / Shuttles
Car rental is usually the most economical and flexible option for groups larger than 2 and it is much more convenient, allowing you to go to different restaurants in town during your stay. The main airports are serviced by most of the major providers.  www.practicar.ca is off-airport (no airport fee and proper winter tires) and will pick you up at the Trail, Castlegar, or Kelowna airport.
Kootenay Gateway

 offers local and regional shuttle transfers to meet your travel needs throughout the season. Daily airport shuttles get you to and from the mountain with services to Kelowna and Spokane. Regional resort transfers and private custom shuttles run on your schedule to get you door to door safely, in comfort, and hassle-free. Visit 

www.kootenaygateway.com/transportation

 for all the details. 

Lasting Impressions Limo Service (250) 368-8188: Goes to Spokane and has several vehicles available depending on your group size. This service may be more flexible than the shuttle if you have a later arrival.
Castlegar Taxi (250) 365-7222: Take if flying into Castlegar. This service is metered but often costs $100.
Champion Cabs (250) 364-3344  This email address is being protected from spambots. You need JavaScript enabled to view it.: Take if flying into Trail.  This service is metered but often costs over $80.